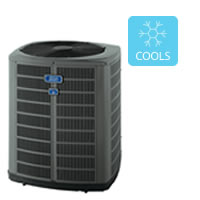 Professional Installed Cooling Systems
As much as half of the energy used in your home goes to heating and cooling. So making smart decisions about your home's heating, ventilating, and air conditioning (HVAC) system can have a big effect on your utility bills — and your comfort. Replacing your old cooling equipment with new, energy-efficient models is a great start. But to make sure that you get the best performance, the new equipment must be properly installed. One Guy HVAC offers cooling and air conditioner services in the Denver and surrounding areas. We are highly trained installers and repair technicians with over 20 years of experience.
Regular Air Conditioner Maintenance
Just as a tune-up for your car can improve your gas mileage, a yearly tune-up of your heating and cooling system can improve efficiency and comfort. Maintain your equipment to prevent future problems and unwanted costs. Keep your heating system at peak performance by having One Guy Heating and Air Conditioning perform annual pre-season check-ups. We get busy once summer comes, so it's best to enroll into a One Guy Heating and Air Conditioner maintenance program.
Our cooling & air conditioner services include:
Air Conditioning Repair
Air Conditioning Replacement
New Air Conditioning Sales & Air Conditioning Installation
Air Conditioning Cleaning
Air Conditioning Tune-Up
Air Conditioning Maintenance