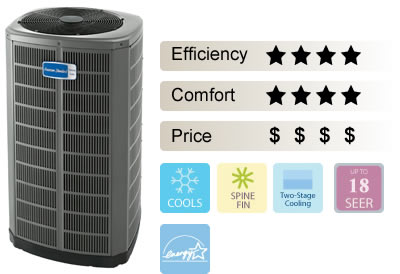 Also known as the Allegiance® 16 Air Conditioner
Keeps you comfortable, thanks to generous two-step cooling and incredible energy efficiency.
Product Hightlights
Surpasses government efficiency standards, helping you save up to 50 percent on your cooling energy usage while reducing greenhouse gas emissions*
Many models meet efficiency requirements for a federal energy tax credit when installed as part of a complete system**
Contains a two-step Duration™ compressor with two-stage cooling which runs at 70 percent capacity most of the time and steps up to the second stage on the hottest days
So quiet, you barely notice it's running
Cools with an environmentally friendly refrigerant that's ozone-safe
Provides more efficient and reliable cooling, thanks to a durable Spine Fin™ coil
Rust-resistant coating, screws and basepan protect system from the elements
*Potential energy use comparing an 8-SEER system to a 16-SEER high-efficiency system. Actual energy savings will vary. **Subject to IRS regulations. Consumers should consult a tax professional for advice on tax preparation.