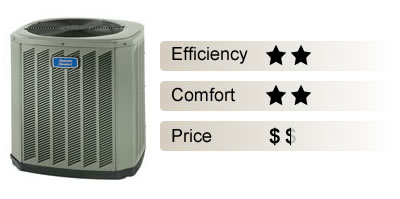 Reliable American Standard Heating & Air Conditioning at its most affordable.
Product Highlights
Saves up to 38 percent on your cooling energy usage while reducing greenhouse gas emissions* by surpassing government efficiency standards
Provides more efficient and reliable cooling, thanks to its all-aluminum Duration™ coil and durable
Duration™ compressor
Built to occupy a smaller footprint, allowing it to be easily installed in places where space is at a premium
*Potential energy use comparing an 8-SEER system to a 13-SEER system. Actual energy savings will vary.