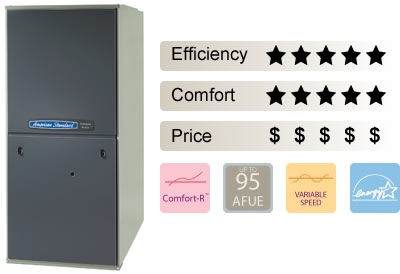 Also known as the Freedom® 95 Comfort-R™ Variable-Speed, Modulating Communicating Furnace. Ultimate comfort with superior efficiency and AccuLink™ connectivity.*
Choose a Platinum ZV Furnace for
Customized heating and humidity control for ideal home comfort
Remote monitoring and programming
Quiet operation
Product Highlights:
Provides fully modulating heating, operating between 40 percent and 100 percent firing rates for ultimate efficiency and comfort control
Converts up to 95 percent of the fuel you pay for into heat for your home
Automatically communicates and coordinates with your other system components via the AccuLink™ Communicating System*
Faster, easier installation that is less invasive to your home with a simplified connection to the Comfort Control
Saves on energy usage while reducing greenhouse gas emissions** by significantly surpassing government efficiency standards on energy usage while reducing
Many models meet efficiency requirements for a federal energy tax credit when installed as part of a complete system***
Runs quietly and evenly distributes warm air to every room with its variable-speed fan motor
In the summer, Comfort-R™ helps keep your home cooler by reducing indoor humidity
Its heavy steel insulated cabinet is durable, quiet and holds more heat in the furnace to better warm your home
*An American Standard Platinum ZV or Gold ZM Comfort Control is required for communicating capability on Platinum ZV furnaces. Telephone Access Module (TAM) required for remote system monitoring. **Potential energy savings may vary depending on your lifestyle, system settings, equipment maintenance, local climate, home construction and installation of equipment and duct system. ***Subject to IRS regulations. Consumers should consult a tax professional for advice on tax preparation.